The Psycho-Bunny Hitchhiker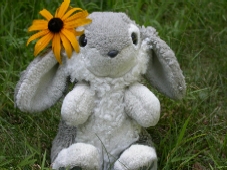 Today, Psycho-Bunny set off on a big journey from Mystic, CT back home to her stamping-ground in Wellington, New Zealand. She was spotted this morning zooming off on the back of a hog. If any of you meet up with her on her journey, please help her get a little closer to home and let us know how she's doing. If you're the one who gets her to Wellington, please email us so we can connect you and her up with her friends.
Status Report
September 2002: Bunny was picked up from Harley's Hex, got a suntan at Waterford Beach, and has gone on to have further adventures with Wanda & Pete.
November 2002: Wanda & Pete took Bunny on the Trail of Terror (Not!) in Branford (we are quite sure she was the scariest thing on the trail that day!). Reports are now in that she's been seen hiking with her new friend - the Maryland Skipjack hitch-hiker - and is off further west-wards for more adventures with Sadie & Russ.
April 2003: well after spending all winter up Bear Mountain, Psycho-Bunny is on the move again, thanks to Irishcod5.
You can also check the status of hitchhikers at Wanda & Pete's website.
Thursday, 29 November 2007 10:17 PM