Red Oak Acorns
Havelock, Marlborough, South Island
Box by Butterfly (CT, USA), placement and clues by Team Psychokiwi
Placed 18 Oct 2004.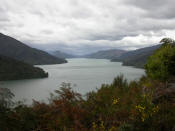 These little acorns were a parting gift from our dear friend Butterfly (Connecticut, USA), and there are a number of stamps in the logbook from other letterboxers who attended the 2003 Mystery Gathering in Rhode Island. We've been carrying it around for months looking for the perfect spot. We finally found a home just out of Havelock, with stunning views over Havelock and through the sounds.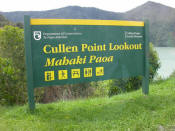 Find this sign and go up to the lookout anyway you wish. When you get to the trig, walk westwards down the trail 30 steps until you get to the intersection. In the middle of the multi-trunk tree, you'll find the acorns hiding in the leaf litter. There are a couple of convenient seats about to stamp in comfort.
Do take some time to admire the views!
Monday, 26 November 2007 09:45 PM